Precise Planning and Same-Day Restorations with Advanced CEREC Technology
Modern-day dentistry has progressed far from the days of goopy, messy manual impressions and waiting weeks for a restoration. Jersey City Dental incorporates the latest technology, including the CEREC system, to offer precise and aesthetically pleasing restorative care to patients. Aided by CEREC, many patients are eligible for one-visit procedures including same-day dental crowns at our practice. With our dentists' advanced training in CEREC digital imaging and cone beam computed tomography, patients of our Jersey City, NJ, dental practice can receive effective and life-altering treatments that repair compromised smiles.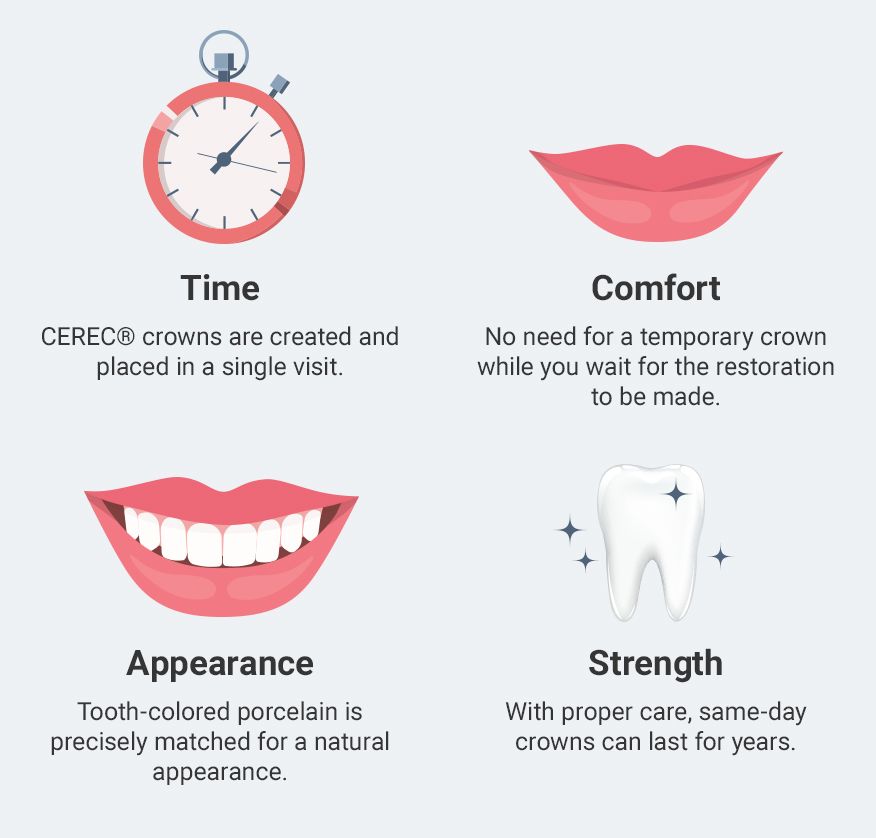 How Does the CEREC System Work?
Jersey City Dental works in conjunction with the CEREC imaging system to accurately plan and perform restorative treatments. The acronym CEREC stands for Chairside Economical Restoration of Esthetic Ceramics. The technology consists of a CAD/CAM (computer aided design and computer aided manufacturing) system for customized restorations that are digitally created.
When you come into our office for your appointment, your dentist will begin your treatment by first addressing any underlying decay or cavities and preparing your tooth. After that, they will take 3D images and scans utilizing the CEREC system and intraoral cameras, and the information is then uploaded to a computer to digitally design your custom restoration. Your dentist will make any necessary adjustments before sending this information to the in-office milling machine, which creates the crown while you wait.
While traditional crowns require a turnaround time of at least two weeks, the advanced CEREC system allows us to offer single visit dentistry to our patients.
Once the restoration is ready, your dentist will attach it to the prepared tooth, and make adjustments if required. At Jersey City Dental, we can attach your crown above the gum line, which reduces the risk of infection and inflammation. While traditional crowns require a turnaround time of at least two weeks and make it necessary to affix a temporary crown until the permanent restoration is created, the advanced CEREC system allows us to offer single visit dentistry to many patients.
Advantages of the CEREC Technology
Apart from time-efficient same day procedures, the CEREC system offers several benefits to patients. The chairside monitors allow patients to actively participate in the treatment process, and our dentists spend time educating them about each step. The digital approach completely avoids uncomfortable manual impressions, making undergoing dental treatments a more comfortable and pleasant experience.
Additionally, the restorations crafted by the digital system are life-like and closely match your smile, helping complete your smile with precision. A comfortable fit also decreases the chances of developing jaw pain and dental damage, and other serious issues such as temporomandibular joint (TMJ) disorder. CEREC restorations are also durable, and with proper care, can last for years.
Schedule a Consultation
If you want to learn more about the benefits of our tools and technology, and how you can experience them, please call us at (201) 332 0403 or contact us online to schedule a consultation at Jersey City Dental.