Straighten Your Smile Discreetly with ClearCorrect
Many of us want a straighter smile, but avoid orthodontic treatment because we do not want to wear braces. ClearCorrect™ aligns your smile discreetly using a series of clear, custom-made plastic trays. At our Jersey City, NJ practice serving Hoboken and surrounding areas, our doctors offer this revolutionary treatment to qualifying patients. ClearCorrect can address mild to moderate orthodontic issues while allowing you to continue enjoying all your favorite foods and brushing and flossing normally.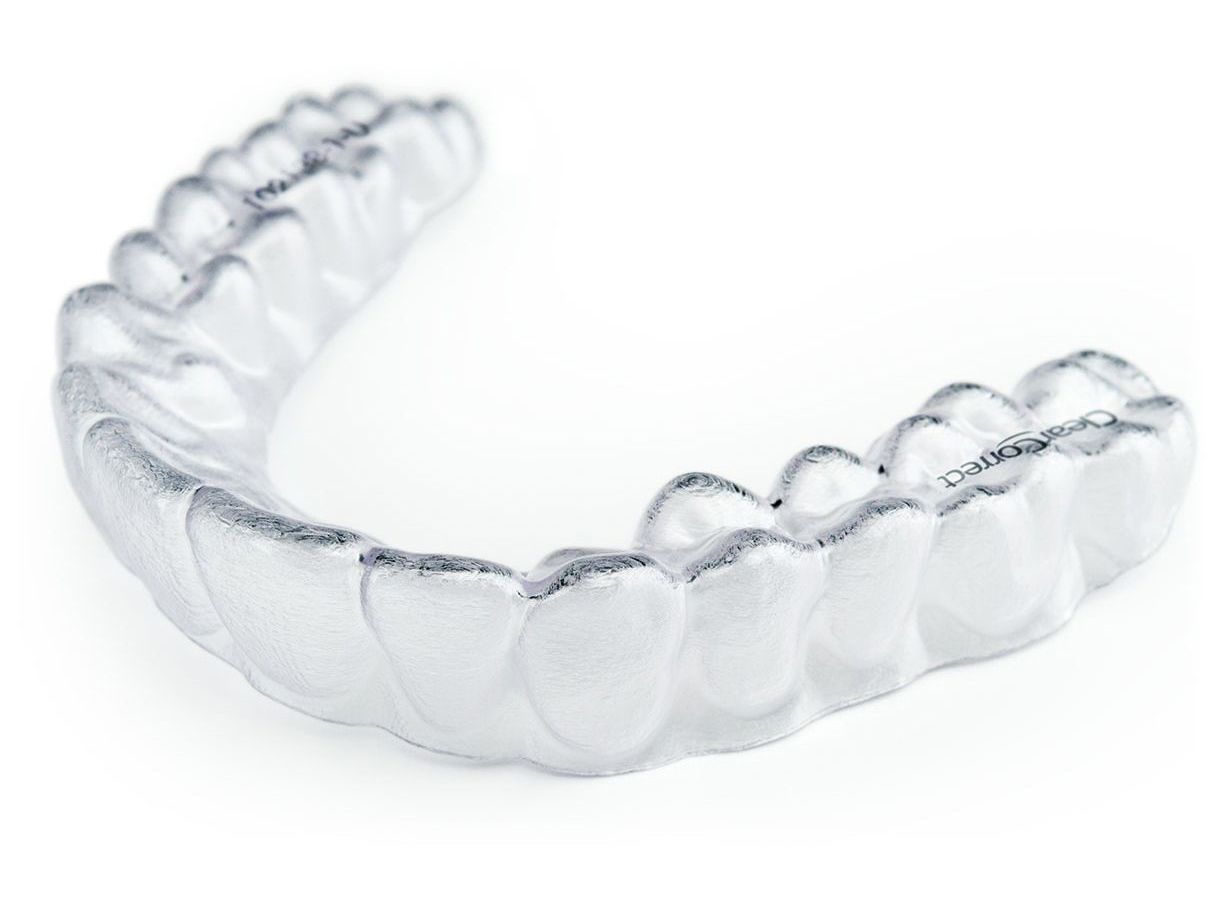 Benefits of ClearCorrect
ClearCorrect delivers a number of advantages:
Optimal comfort: ClearCorrect trays are fabricated from sleek, smooth, thermoplastic materials. With no metal components to irritate the cheeks, lips, or tongue, this orthodontic option is more comfortable compared to traditional braces.
Discretion: Because ClearCorrect aligners are translucent, they are virtually unnoticeable to others.
Affordability: ClearCorrect is reasonably priced. At Jersey City Dental, we offer zero-percent financing for qualifying patients.
Enhanced aesthetics: Straightening your teeth with ClearCorrect enhances your overall appearance and can give you a boost in confidence.
Improved oral health: Straight teeth are easier to maintain. When your smile is in alignment, brushing and flossing are much more effective. Furthermore, the results of ClearCorrect can equalize forces across your bite to minimize undue stress on your teeth.
ClearCorrect is most appropriate for those with mild to moderate misalignment.
Who Is a Candidate for ClearCorrect?
ClearCorrect is most appropriate for those with mild to moderate misalignment. However, this treatment option can address many of the same issues as traditional braces, including:
Crowded, overlapped, or crooked teeth
Gaps or spaces between the teeth
Overbite
Underbite
Crossbite
If you have more complex or severe orthodontic issues, your dentist may recommend traditional braces. To qualify for ClearCorrect – or any type of orthodontic treatment – patients must have healthy teeth and gums, free from decay and disease. If necessary, restorative procedures can be performed prior to ClearCorrect treatment.
How ClearCorrect Works
If you and your doctor determine that ClearCorrect is right for you, we will start by taking impressions of your teeth. Our advanced digital imaging technology produces incredibly accurate results, without the mess of traditional impressions. These images are then sent to a dental lab and used to create a series of custom aligner trays. Once the aligners are complete, we will schedule you for another office visit to assess the fit.
The subtle differences in the trays gradually move the teeth over time. To be effective, the aligners must be worn at least 22 hours every day. After about two weeks, the trays are replaced by the next set in the series. During this active treatment phase, we will schedule checkups about every four to six weeks.
Once the desired results are achieved, a retainer is necessary to prevent the teeth from moving back into their previous positions. There are several types of retainers available. During a consultation at our practice, your doctor can help you determine which one is right for you.
Contact Jersey City Dental Today
If you are interested in learning more about ClearCorrect – or any of the other treatments offered at our Jersey City practice serving the greater Hoboken area – schedule an appointment today. Contact us online or give us a call at (201) 332-0403.